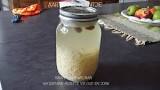 My ma het altyd hiermee gebak – heerlike resultate
2 medium aartappels
500 ml gekookte water
3 ml aktiewe droë gis of 5 g persgis
125 ml lou water
25 ml suiker
10 ml sout
fles met deksel
Was, skil en rasper die aartappels, gooi kookwater oor en laat afkoel.
Week die gis in die 125 ml lou water.
Meng die suiker, sout en geweekte gis goed met die lou aartappelmengsel, gooi in die fles en skroef toe maar nie styf vas nie.
Maak warm toe en laat vir 6 tot 8 ure lank of oornag op 'n warmerige plek staan. Die suurdeer sal skuimerig word en fles vul of selfs uitloop as die gis baie aktief is. Daarom moet die fles nie dig toegeskroef word nie, want dit kan bars.As dit te lank gelaat word verswak die gis.Afname in volume is teken daarvan.
Hou 250 ml gis in die toe fles vir 'n plantjie. Syg die res deur 'n draadsif as die aartappels grof gerasper is of gebruik net so as dif fyngerasperde aartappels is.
Knie volgens die insuur- of direkte deegmetode.