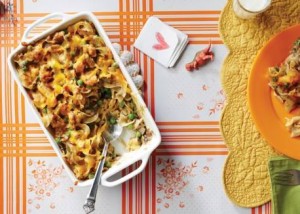 Mock Tuna-noodle tart
(A bit more Vegan as per request)
Serves 6
A salty chickpea cake has just the right flakiness for a tasty mock tuna.
Mock Tuna
• ½ cup chickpea or garbanzo flour
• 2 Tbs. nutritional yeast
• ¾ tsp. sea salt
• ¼ tsp. freshly ground black pepper
• 2 Tbs. olive oil
• 2 tsp. lemon juice
• ½ cup cooked chickpeas
Casserole
• 2 Tbs. olive oil
• 2 Tbs. butter
• 2 cups coarsely chopped button or cremini mushrooms
• 1 red onion, chopped (1½ cups)
• 2 cloves garlic, minced (2 tsp.)
• ¼ cup all-purpose flour
• 1¼ cups mushroom broth
• ¾ cup low-fat milk
• 4 oz. uncooked egg noodles
• 1 cup frozen peas
• ½ cup grated Cheddar cheese, plus more for top of casserole, optional
1. To make Mock Tuna: Whisk together chickpea flour, nutritional yeast, salt, and pepper in medium bowl. Stir in oil and lemon juice, then stir in 1/2 cup water until smooth. Add chickpeas, and coarsely mash.
2. Coat large non-stick skillet with cooking spray, and heat over medium-high heat. Pour chickpea mixture into skillet, and spread to coat bottom of pan. Cover pan, reduce heat to medium-low, and cook 7 to 10 minutes. Flip chickpea cake (it's OK if it breaks), cover pan, and cook 5 to 7 minutes more, or until lightly browned on both sides. Set aside.
3. To make Casserole: Heat oil and butter in medium saucepan over medium heat. Add mushrooms, onion, and garlic, and cook 5 to 7 minutes, or until mushrooms are softened. Stir in flour, and cook 30 seconds. Pour in broth and milk, and cook 3 to 5 minutes, or until sauce thickens, stirring constantly. Season with salt and pepper, if desired. Set aside.
4. Preheat oven to 400°F. Cook egg noodles according to package directions, drain well, and transfer to large bowl. Break Mock Tuna into small flakes or pieces, and add to bowl. Stir in mushroom mixture, peas, and 1/2 cup cheese. Transfer to 2-quart baking dish, and top with more cheese (if using). Bake 20 minutes, or until hot, bubbly, and starting to brown on top.
Vegan T March 2015 p.58
Missing: Amanzimtoti KZN Lorraine Bothma 45 yrs 29 March 2015. OB 240/03/2015&4385/03/2015. Circumstances: She was last seen at Belavista Bar Warner Beach on 29 Mar at 22.00 hrs. She was wearing a pair of shorts and dark grey/black t-shirt. Driving a Kia Picanto Orange in colour Reg Nr: ND 637359.(unknown). Any info contact Amanzimtoti SAPS Head Detectives: 031-913 1349/1300/PLTT 072 214 7439
Missing: Amanzimtoti KZN Lorraine Bothma 45 yrs 29 March 2015. OB 240/03/2015&4385/03/2015. Circumstances: She was last seen at Belavista Bar Warner Beach on 29…
Mahatma Ghandi standbeeld in JHB ook met verf gegooi. Een man in hegtenis.
The statue and a commemorative plaque were smeared with white paint this afternoon.
Police have confirmed a statue of Indian leader and philosopher Mahatma Ghandi in the Johannesburg CBD has become the latest monument to be defaced this weekend.
… See More