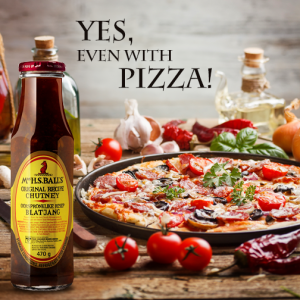 Vir die van julle wat graag die blatjang wil maak.
Edward Ball, haar kleinseun, het die oorspronklike grootmaat-resep verklein. Dit maak 18 bottels ( mild) blatjang.)
BESTANDDELE:
612 g droë perskes
238 g gedroogde appelkose
3 liter bruin druiwe-asyn(gewone bruine azijn)
2 +1/2 kg wit suiker
500g uie
120 g sout
75 g cayenne-peper
Om die blatjang sterk (hot) te maak , voeg 75g gemaalde brandrissie ( chili) by.
Om perskeblatjang te maak, los net die appelkose uit en gebruik 850 g droe perskes.
METODE:- spoel die vrugte goed af en week dit oornag in druiwe asyn- kook vrugte in asyn en dreineer- maal in klein stukkies in 'n meul ( of versnipper met kombuismes).- gooi die vrugte, suiker ( opgelos in 'n bietjie asyn) en uie ( gemaal) by en kook in 'n groot pot in die asyn die hoeveelheid asyn hang af van die vastigheid: dit moenie te loperig of te dik wees nie- voeg kruie by en kook vir 2-2+1/2 uur- roer nou en dan met 'n houtspaan dat dit nie vasbrand nie- doen in inle-bottels- met die bottel toe, kan dit jare bewaar word en met die oop, kan jy dit so 'n half jaar in yskas(koelkas) bere.