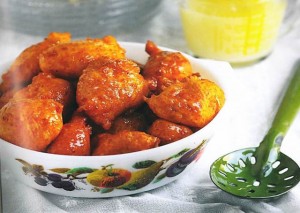 Pampoenkoekies
Bereiding: 10 minute
Stoomtyd: 10 minute
Gaarmaaktyd: 10 minute
Lewer 12 groot pampoenkoekies
500 ml (2 k) geskilde pampoen-, botterskorsie- of selfs patatstukke, gaar gestoom
125 ml (½ k) koekmeel of dalk 'n bietjie meer
5 ml (1 t) bakpoeier
knippie sout
1-2 eiers, geklits
klein bietjie olie om pan mee te verf
80 ml suiker en 15 ml (1 e) fyn kaneel gemeng vir bo-oor strooi
Druk die groente fyn en meng die res van die bestanddele buiten die suikermengsel by.
Verhit 'n pan, verf die bodem met 'n bietjie olie en skep lepels vol van die mengsel in.
Bedek en stoombraai tot ligbruin onder. Draai die koekies om, bedek weer en stoombraai tot bruin aan die ander kant.
Pak op 'n bord en sprinkel die suikermengsel oor.
Herhaal met die res van die mengsel.
STOOM MAKLIK
Gebruik 'n drukpot en plaas sy draadrakkie onder in die pot. Giet water in tot net onder die rakkie.
Pak die groente in houers, verkieslik met gaatjies. Sit die deksel op (nie op druk nie) en stoom tot die groente sag is.
ONS GESONDER PLAN
Pampoen gestoom pleks van gekook – meer voedingstowwe bly behoue; koekies gestoombraai in 'n leksel olie pleks van gediepvetbraai; net 'n sprinkeltjie kaneelsuiker pleks van stroopsoet suikerstroop.
MINDER
Kilojoules. . . . . . . . .66%
Proteïen . . . . . . . . . 41%
Vet . . . . . . . . . . . . .82%
Cholesterol . . . . . . .7,6%
Koolhidrate . . . . . . .14%
Vesel. . . . . . . . . . . . 10%
Huisgenoot 17 Maart 2011.
Deur Huisgenoot Digitaal op Februarie 8, 2012