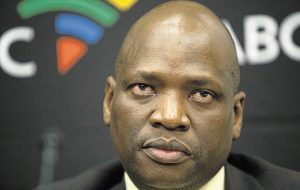 SABC onder vuur omdat hulle geen berigte oor die geweldadige onruste in die Pretoria area uitsaai nie
 The South African Broadcasting Corporation (SABC) has come under fire for its lack of explicit coverage of the political protests in Pretoria.
Lobby group Media Monitoring Africa says SABC journalists were banned from filing violent footage initially recorded at the scene in Atteridgeville, Tshwane.
As a result.. there were no visuals used of the violence.
— William Bird, Executive Director of Media Monitoring Africa
This comes after the SABC announced that it will no longer air content displaying violent protests in its bulletins.
Although SABC channels eventually ran with the lead story, Media Monitoring Africa's William Bird says that the broadcaster is not doing a sufficient job.
That becomes a significant problem, because how on earth do you start to portray the scale of the protest if you don't put the violence into context?
— William Bird, Executive Director of Media Monitoring Africa
He says the SABC was delayed in running news coverage of the unrest and has been selective about the images they choose to run.
They came late to the party because the decision [to ban violent footage] has encouraged a culture of self-censorship.
— William Bird, Executive Director of Media Monitoring Africa
Bron: Capetalk
---