Sampioenpakkies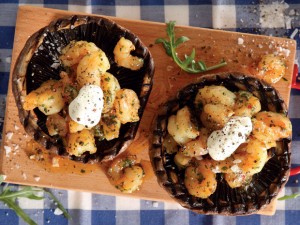 Bereiding: 15 min.
Gaarmaak: 6 min.
6 portabellosampioene
60 ml (¼ k) olyfolie
sout en vars gemaalde peper
VULSEL
50 ml botter
3 knoffelhuisies, gekap
800 g garnale, sonder dop
30 ml (2 e) soetrissiesous
30 ml (2 e) pietersielie, fyn gekap
10 ml (2 t) suurlemoenpeper
VIR VOORSIT
60 ml (¼ k) suurroom
30 ml (2 e) mayonnaise
1. Verf die sampioene buite en binne met die olyfolie, geur met die sout en vars gemaalde peper en braai oor matige kole tot sag en gaar, maar nie pap nie.
2. Vulsel Smelt die botter en braai die knoffel en garnale 2 min. of tot net gaar. Voeg die soetrissiesous, pietersielie en suurlemoenpeper by en roerbraai 1 min.
3. Vir voorsit Meng die suurroom en mayonnaise goed en hou eenkant.
4. Sodra die sampioene gaar is, skep van die vulsel in en 'n skeppie roommengsel bo-op. Sit voor met gebraaide vis, vleis of slaai.
Deur Huisgenoot Digitaal op Maart 6, 2015