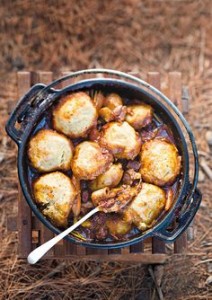 Sout Souskluitjies/dumplings
BESTANDDELE:
200ml meel
5ml bakpoeier
3ml sout of knoffelsout
3ml gedroogte tiemie of enige ander droe kruie
1 eier geklits
± 100ml water
Aanwysings:
Sif droë bestanddele saam voeg eier en water by om beslag te vorm wat van lepel afdrup.
Drup teelepels vol in pot wat stadig prut maak pot dig toe.
Prut ± 8-10 minute wanneer kluitjies gaar is sal dit bo dryf, moenie deksel voor die tyd oop maak nie.