Tuisgemaakte karamelsous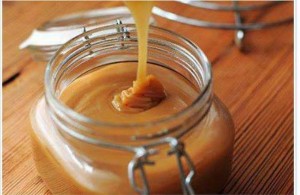 Het Ma of Ouma 'n soettand? Dan is dié hemelse sous net die geskenk vir haar. Dit hou vir tot twee maande in die yskas.
250 ml gouestroop
310 ml klam bruinsuiker
60 ml botter
250 ml room
knippie sout
1 teelepel vanielje geursel
Verhit die stroop, bruinsuiker en botter stadig oor lae hitte tot die suiker gesmelt is. Verhit tot kookpunt en laat dit vir vyf minute prut terwyl jy gereeld roer. Roer die room by, verhit weer tot kookpunt en laat effens afkoel voor jy die sous bottel. Verseël lugdig met gesteriliseerde deksels en bêre in die yskas. (As die sous effens dik word in die yskas, sit die fles of bottel in 'n bak met kookwater om dit loperig te maak.) Lewer 750 ml sous.
Home made caramel souce
Recipe yields 1 1/2 cups (although I usually double it but its just
as easy to only make a half batch)
1 cup packed brown sugar (I use light brown or golden)
1/2 cup cream
4 tablespoons butter
Pinch of sea salt
1 tablespoon vanilla extract
Melt butter in pot, mix in brown sugar, cream and salt.
Cook over medium-low heat and whisk gently
for about 7 minutes or longer if you doubled.
I remove the pot from the heat, add vanilla and return to
cook for another minute or so to thicken a bit more.
Take it off the stove and pour into a jar then pop it into the
fridge and VOILA you're done!