Woman sure she would die in brutal farm attack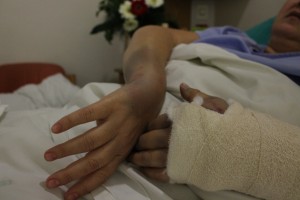 "I started praying out loud and they asked me what I was doing. I told them I was praying and they asked me to whom. I said to God and they asked me what for. 'Not to kill us and to leave,' I replied."
23 hours ago
SUDWALA – While recuperating in hospital, the victim of a farm attack, Ms Mariette Saaiman (45) was finding some comfort in the possibility that two of her three attackers had been apprehended. However, police have confirmed that the suspects arrested could not be positively linked to the brutal assault on Saaiman and her husband, Aneil (38).
According to Mr Shaun Terblanche of J&M Security, who attended the scene, the apprehended suspects were responsible for stealing copper after vandalizing a transformer on a nearby farm, after the attack.
The couple was overpowered on Boschkom Estate early Sunday morning.
The Saaimans sustained severe injuries after three men entered their property, tied them up and assaulted them for over an hour.
Mariette had to be operated on as her earlobe was partially torn.
She relayed their ordeal to Lowvelder yesterday morning from her hospital bed in Mediclinic Nelspruit.
She heard birds making a racket outside and decided to investigate as she thought they may have been threatened by a snake.
However, she was alerted when she noticed that a ladder, on which she had been displaying flowers, was lying on the ground. She went back inside the house to call her husband.
They both went outside and the next moment Mariette saw a man running towards her, screaming.
"He started hitting me continuously with a branch. There was nothing I could do," she cried.
At that stage two more suspects entered the property and started beating Aneil with an iron pipe.
He was forced into the home, while Mariette was tied up in the driveway.
In an attempt to stop her attacker from hitting her, she pretended that she had lost consciousness.
"I heard my husband calling for me but I was too afraid to answer as I feared they would come back to me."
Mariette added that the suspects did come back for her and demanded the keys of the safe. "At that stage I couldn't move as my feet were tied. They dragged me into the house and continued beating me and my husband.
They kept on asking questions and if I gave an answer they didn't like, they would beat my husband. If Aneil didn't give a satisfactory answer, they would hit me."
According to Mariette the suspects packed three bags and after they collected what they wanted, they became very calm. "For several minutes they stood in front of my husband's closet and even tried on some of his clothes."
However, the assault didn't stop and according to Mariette what they feared most, then seemed a reality. She was convinced that they were going to die.
The suspects took two weapons from the couple's safe. According to Mariette, they couldn't load one of the weapons at first, but later managed to cock the pistol.
"The next moment they took off their balaclavas and I knew this was it. They were going to shoot us."
She continued, "I started praying out loud and they asked me what I was doing. I told them I was praying and they asked me to whom. I said to God and they asked me what for. 'Not to kill us and to leave,' I replied."
In the meantime, Aneil managed to press the panic button with his elbow when the suspects dragged him into the house. J&M Security arrived on the scene very quickly.
"The men started yelling the numbers '60-60′ and immediately fled the scene," Mariette added. She and her husband were rushed to hospital.
Besides a torn earlobe, Mariette also sustained a wound to the head as well as several bruises to her body.
Sgt Gerald Sedibe, provincial spokesman for the police, yesterday said that no one had been arrested and that the suspects are still at large. Bossies Community Justice has offered a reward of up to R50 000 for information leading to the apprehension and successful prosecution of the criminals.
Lowvelder