Ons ontleed van die gebeure in die burgelike "militêre" gedeelte van die ANC SAKP se soms onverklaarbare "gemeenskaplike initiatiewe" om 'n beter idee te kry van die groter prent en wat dit vir die blanke minderheid in SA kan beteken: 
Met die help van die Suid Afrikaanse Kommunistiese Party en hul wit ondersteuners, het die ANC in die tyd voor '94 die stelsel gebruik wat hulle, soos in alle lande waar dit gebruik was, groot welslae gegun het.
In hul kommunistiese "militêre" kontrool stelsel het hulle verskeie "political commissars", gehad wat opgelei was deur die Russe en Kubane. Hierdie ouens kon op enige stadium inbeweeg in 'n gegewe gebied en baie gou is die plek onregeerbaar gemaak. Dit het dit laat blyk asof massas getoi-toi het en klip gegooi, brande gebrand, padversperrings opgerig en petrolbomme gegooi. Handwapens was ook gebruik. Ons ken almal hierdie prentjie. Dit was die politieke kommisarisse (PK) wat dit gereël het en hy kon mense trek uit verskeie organisasies uit. Na '94 is hierdie aksies geleidelik afgeskaal, maar, onder Zuma is dit weer geaktiveer. Die PK het nou 'n geselekteerde groepie jongmense (sien hieronder) onder hom (mans en vroue), dan word 'n teiken area geidentifiseer waar hulle begin om stemme te verloor. Hulle ken die basiese griewe van die mense en 'n bedrag geld is reeds geoormerk vir opgraderings in daardie gebied. Die bevolking weet nie daarvan nie.
Die politieke kommisarisse en sy groep gaan dan na die gebied toe (hulle word met busse of vragmotors aangery) en kontak of "comrades" of identifiseer 'n paar plaaslike mense wat bereid is om deel te neem aan die aksies wat gaan volg. Selde word die regering self blameer. Dit is gewoonlik die opposisie of apartheid wat die skuld dra. Die PK weet hoe om met die mense te praat en hulle te oortuig en te motiveer. Skielik is daar net chaos in die gebied. Die nuus media verklaar dat dit 'n dienslewering optog/staking is en allerlei eise word heen en weer geslinger. Intimidasie van plaaslike bevolking neem toe en die ontevrede groep groei in getalle.
Die intensiteit word verhoog. Die polisie word ingeroep en nou word daar eers te kere gegaan. Verslaggewers en TV is olie op die vuur. Ten einde laaste is dit 'n ANC/Cosatu lid wat met die ontevredenes kom onderhandel en beloftes word gemaak en die geld wat voorheen vir daai gebied geoormerk was, word nou 'n realiteit en dinge word gedoen en die chaos kry end.
Op die einde stap die ANC sterker daar uit en die opposisie weet nie wat hul getref het nie. Die chaos was baie fyn beplan.
Ek het al gesien hoe 1 persoon 'n skare van meer as 'n duisend beheer deur net sy kop te knik. Hy het marshalls in die skare gehad wat die heeltyd met hom oogkontak het en sy seine sê presies vir hulle wat om wanneer te doen. Die PK's is nie paloeka's nie. Hulle ken en verstaan die dinamika van skare beheer. Hulle het baie goeie kennis. Hulle groepies is ook goed opgelei en verstaan presies wat hul take is. Die protes optogte wat landwyd voorkom is nie 'n teken dat hulle onder mekaar baklei nie. Hulle is planmatig besig om hul party te versterk, meer militant te maak en 'n nuwe geslag stelselmatig oorlogsondervinding te gee. Gaan kyk weer na die laaste verkiesings uitslae. Hulle het bitter min kiesers aan die DA afgestaan. Hulle het steun aan die EFF afgestaan. Die DA het steun van veral Cope gekry en van blankes en kleurlinge af. Die EFF is 'n ANC beplande party. Ons moet nie mislei word deur sg EFF/ANC bekgevegte nie. Moenie die klomp onderskat net omdat hulle swart is nie. Die Kodesa onderhandelaars het dit gedoen en ons het duur daarvoor betaal.
Dit moet onthou word met watse welsae die NKVD in die tweede wereld oorlog deur Stalin in Rusland gebruik was om sy weermag voort te dryf teen die vyand en het enige soldate summier doodgeskiet wat omgedraai het. Die Kommisarisse het ook nou gewerk met die geheime diens en enige "verraaier" geskiet en hulle was ook verantwoordlik vir die moord op tale Jode en ander etnisiteite wat die kommuniste wou uitrooi.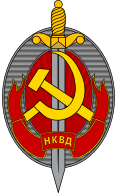 NKVD Simbool
Die plan in SA is deeglik uitgewerk volgens die Chinese rewolusionere plan: werk vanaf die platteland na die stede toe. Die Russiese model werk vanaf die stede na die platteland toe.
Eers die Russiese model: die tronknommerstelsel is deur die ANC (oa Nelson Mandela en die 11 ander Rivonia skuldiges begin in Pollsmoor) die tronknommer het die hele samelewing deursuur, 95% van alle swartes het kontak daarmee, 80%+ van alle kleurlinge, ook die Indiers en Blanke arm woonbuurtes! (60%+). Die kriminele aspek het hulle gebruik om binnelands teen die Blankes te baklei in die "struggle" dae. (Daar is bewyse hiervan).
Na '94 het hulle gestop met opdragte aan die groepe, maar het 2 geslagte van misdadigers nie opgehef nie, so jeugbendes/bendes het landwyd ontstaan binne die tronknommer en misdaad het voortgeduur sonder 'n politieke oogmerk. Hulle kon dit nie stop nie agv werkloosheid. Hulle het voor '94 gedink as hulle oorneem gaan hulle die klomp gou-gou werk kan gee. Toe werk dit nie en Aids begin maai onder die jeug. Toe Zuma oorvat roep hy alle onaktiewe pre-rewolusie strukture weer op om te begin. Die opposisie skel, maar Zuma gaan aan. Intussen begin die Nigeriers, Somaliers, Zimbabweiers, Pakistani inbeweeg en vat die misdaad toeneel stelselmatig oor.
Op die oomblik, soos 'n paar jaar terug kry ons die segde xenofobiese aanvalle. Dit is suiwer vir ons kriminele om hulle eie grondgebied terug te neem van die buitelanders af. Intussen het die staat die kommando stelsel ontbind en die blankes ontwapen. Strenger wette tov wapenverkope maak dit moeiliker vir veral blankes in die stede om wapens te kry. Die ANC trek weer die wettelose tronknommer bendes nader en gee hulle struktuur. Sommige werk saam met die politieke kommisarisse om sekere dinge in dele oor die hele land "onregeerbaar" te maak met protes optogte. (Die mense word weer militant gemaak hierdeur) ander gaan voort met misdaad, maar slaan veral blankes en nie-ANC lede. Soms word 'n "andersdenkende" ANC lid gedissiplineer en dood geslaan.
Hulle word in divisies verdeel en rondom stede in hoofsaaklik plakkerskampe gehuisves met beloftes van RDP huise. Alle stede word geteiken en dit lyk op die oog af soos 'n natuurlike bevolkings verhuising (verstedeliking op soek na werk – dit is nie!) Plaasaanvalle word geloods om die boere te ontwapen, want die groot wapens is op die plase. + die vreesfaktor vir die "swartgevaar" word aangevuur. Die Nigerieërs stig nuwe jeugbendes wat die tronknommer stelsel op sy kop keer en die ANC is kwaad, want hul beplanning is in gedrang.
Tronkgeweld breek kort-kort uit, want die verraaiers wat by die nigies aangesluit het is nou op tik en wil nie terugdraai nie. Hulle word in die tronk doodgemaak. Die staat beskou die statistieke as geheim, maar die mense praat en die getalle is groot. Soos onlangs berig is, gaan hulle nou begin om selfoon seine in tronke te blokeer.
Die misdaad divisies oefen gereeld en is tans so dat blanke mans eenvoudig doodgeskiet word in die stede, goed en sy voertuig geroof, maar alles word weer weggegooi of net so gelos later op 'n ander plek. Dit blyk na blote oefeninge. Die divisies in JHB haal die Pakistani en Somaliers uit met die laaste geweld teen buitelanders, want hulle smokkel ook wapens en kan die blankes van onwettige wapens voorsien. Die Nigerieërs is Islamietiese Moslems, en word nader getrek na die ANC agv hulle pro Islamietiese houdings.
Die divisies word versterk. Die laaste berigte einde verlede week sou die divisies na bewering blanke huise en beighede aanvaal in 'n massa inbraak poging, maar dit is uitgestel, want die kragonderbrekings was te kort.
En die Sjinese is hard aan die bou van hul eie stad suid van JHB wat die "Kapitaal van Afrika" gaan word volgens hulle. Daar is ook die Sjinese basisse in Namibië en Zimbabwe…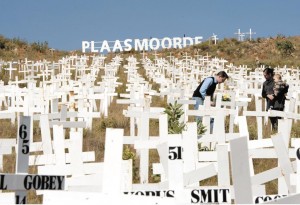 Intussen moet ons nou na die ander situasie kyk: die hele beplanning van die weermag en die sogenoemde jeugkorps en landelike ontwikkeling se jeugkorps met die oog op grondhervorming en die aandag op die platteland.
Die weermag is nou betrokke om die jeug op te lei om hulle voor te berei vir grondhervorming? Dit is volgens Zuma se toespraak (hieronder) onlangs by die militêre basis op Potchefstroom. Hierdie gaan saam met duisende Xhosa en Zulu jeugdiges wat sedert verlede jaar Oktober deur die weermag gewerf is vir 2 jaar militêre diens. Ons word nie hierdeur mislei nie.
Toe die ANC 'n paar jaar gelede die ANC Jeugliga weermag opleiding wou gee, het die opposisie partye skerp reageer en die plan is toe net omskep in 'n ander formaat. Daar is wel 'n groot aantal van daardie jeug wat na Zimbabwe toe gestuur is vir militêre opleiding. Nou moet ons hoor daar is 'n organisasie gestig binne die SANDF wat hulle die lanboukorps noem en hulle word daardeur "opgehef en bemagtig" om te help met grondhervorming? Intussen wonder ek…grondhervorming…platteland…plase…soldate…met gewere in die hand.
Klink dit bekend? Oom Bob se truuks oor die Limpopo se waters? Luister na die mooi woorde wat gebruik word in Zuma se toespraak om militêre gereedheid te voerdoesel. Word ons land bedreig?
Ons het die week voor Zuma se SoNA gesien dat die weermag ontplooi het na oa Clanwilliam, Van Rijndorp en Howick met bn sterkte met Caspirs. So ook tussen Port Shepstone en Margate êrens saam met SAPD. Dit wil lyk asof die weermag die land in sektore verdeel het en sektor gebiedsmagte ontplooi het (met watter geld? – die weermag se budget is die week vergroot) verder weet ons dat duisende Xhosa en Zulu jeug gewerf is vir 2 jaar diensplig. Dit teen die agtergrond van die Zulu koning en Mthembu Xhosa konings wat hulle jeug opgeroep het vir oorlog teen diegene wat hul tradisies bedreig (grondeise wat teengestaan word) die Weermag se sektore word duidelik uitgewys in nuus gebeure. Die hele prentjie val nou in plek in. Alles is byna in plek, net die wetgewing kort om dit in interasionale oë te regverdig as die blankes in opstand kom en met geweld onderdruk word omdat hulle nie die wet wil gehoorsaam nie.
Hulle is reg vir ons. Tyd is aan hulle kant. Hulle maak ons intussen dood en wag vir ons om onself te verraai deur aan te val.
Maar die toneel op die grond het onlangs verander en Zuma se oopgooi van grense, wat ook kommunisties van aard is, het probleme veroorsaak.
Byvoorbeeld, die hele misdaad toneel het in Port Elizabeth verander binne 'n tydperk van 2 tot 3 jaar. Die Nigeriërs beheer die grootste deel van die Noordelike voorstede. In die verlede het hulle net sekere geboue in die middestad beheer en het al rondom die taxi staanplekke hul "besigheid" gedoen. Nou behoort elke prostituut in meer as 6 voorstede aan hulle.
Alle dwelmhuise word deur hulle voorsien en beheer. Meeste roof en huisbraak wat in daardie gebiede plaasvind, gebeur volgens hulle opdragte. Hulle het die ou jeugbendes ingesluk en met 3 massiewe jeugbendes na vore gekom. Hulle werk buite die tronknommerstelsel, inteendeel, dit wil voorkom of die nommerstelsel heeltemal disfunksioneel geraak het. (Wat 'n goeie ding is).
Hulle bendes is saamgestel uit swart, kleurling en blankes. Die blanke misdadigers wat by hulle ingetrek is, was voorheen bekend as PE se "perly-duikers" (perlemoen stropers), maar hulle mark het in duie gestort weens oordadige vergrype. Nou werk hul onder die Nigeriëts se vaandel as beskermers en "wetstoepassers" van die menigde dwelm poste. Waar die dwelmhandel in die verlede in hierdie voorstede hoofsaaklik bestaan het uit die verkoop van dagga, mandrax en rocks, is die prentjie heeltemal anders vandag. Nou is dit tik, thai (heroine) en mandrax verkope. Bittermin dagga word nog hier verkoop.
Haweloses word verblyf en kos en dwelms gegee teen 'n verpligte "dienslewering" van roof en huisbrake. Selfs van die mense rondom die dwelmposte word 'n fooi betaal om die strate dop te hou. Armoede en werkloosheid is baie hoog in hierdie woonbuurtes. Hulle netwerk strek tot diep binne polisie geledere. Die sosio-maatskaplike verval van die Noordelike voorstede is opvallend. Ons moet 'n oproep doen vanuit die verskillende polisie forums en ander strukture soos maatskaplike dienste en nie-regerings organisasies dat die polisie se spesialis eenhede tov jeugbendes en narkotika, weer ingestel word met baie groter begrotings. Daar moet ook ernstig gekyk word na SA se immigrasie beleid.
Wie is die 20,000+ plus Narysec soldate en wat is die ANC se planne met hulle?
Dit is baie duidelik dat die regering iets drasties beplan rondom grondhervorming en die opleiding van Narysec jeugdiges uit die plakkerskampe wat salarisse kry – hoeveel hiervan immigrante is, weet ons nie, want mens twyfel of hulle almal burgers van die land is. Daar word moontik heelwat getalle die Wes-Kaap en Noord-Kaap ingesmokkel, veral waar lae persentasie swartes is, maar beslis alle provinsies.
Ministerstoepsrake gee voor dat Narysec "burgers" gebruik is om "werkloses" van werk te voorsien, maar intussen berei hul hul eerste voor op grondhervorming. Hoekom dan ook op die militere vlak (Mens kan nie help om te dink dat China dit presies gedoen het met Tibet burgers).
Verder is die "waardasie" wet reeds in plek, en die Eiendomswet tree binnekort in werking, die AGENTE (Narysec en ander) van hulle is reeds opgelei en landwyd uitgeplaas in elke provinsie – en die Chinese se hulp is ingeroep om
hulle te kom bystaan hiermee.
Lees self hier:
http://www.ruraldevelopment.gov.za/phocadownload/narysec/Application_Forms/narysec_ad_poster1.pdf
Is Narysec about job creation or is there something else behind this?
The regulation of land holdings bill should be processed by parliament and signed into law this year which will place a maximum ceiling on agricultural land holdings for both legal and natural persons, Minister of Rural Development and Land Affairs Gugile Nkwinti said at a briefing at parliament recently. Nkwinti said the government's 50/50 policy framework – where workers would take ownership of half of farms – would be implemented "immediately". Government has received a number of proposals from commercial farmers and would pilot at least 50 projects "during this term".

Here is more information about Narysec, China and South Africa:
MEDIA RELEASE: CHINESE SHARE POVERTY ALLEVIATION EXPERTISE
04 FEBRUARY 2015
The Department of Rural Development and Land Reform is hosting a Chinese delegation on a five day visit to inspect various projects of the Comprehensive Rural Development Program (CRDP) of the Department. The group led by China's Vice President of State Council who is also leading poverty alleviation efforts in that country will share their experiences on poverty alleviation initiatives among others.
The delegation which also includes members of International Poverty Reduction Centre of China arrived in Johannesburg on Monday 2 February and will return to China on Friday.
Minister of Rural Development and Land Reform Mr Gugile Nkwinti welcomed the group of poverty alleviation experts to South Africa at a dinner he hosted for them in Johannesburg. The Minister said close cooperation with China will ensure a sound poverty alleviation strategy for South Africa, particularly to alleviate the plight of the rural poor.
The visit is the result of a Reimbursable Advisory Services (RAS) agreement entered into with the World Bank on the 8th of November 2013. This agreement also involves the skilling and employment of rural youth which was identified as one of the seven key tasks of the RAS.
As part of this initiative three groups of the NARYSEC youth program of the Department of Rural Development, Rural Enterprise and Industry Development beneficiaries and land reform beneficiaries have already attended skills development programmes in China presented by the International Poverty Reduction Centre of China (IPRCC). These training sessions focused on enterprise development and specifically developing village enterprises.
Upon their arrival the delegation was taken to the Sokhulumi projects outside Bronkhorspruit, where poor families
from the Sokhulumi area are benefiting from vegetable production and arts and craft projects initiated and managed by the Department.
The group will also be visiting the Thaba Nchu College in the Free State- which has been taken over by the Department to serve as a training facility to advance the NARYSEC youth programme.
At Diyatalawa between Kestell and Harrismith the delegation will stop over to inspect the Diyatalawa project where
the Department has invested heavily in uplifting the community. Diyatalawa is a flagship rural development initiative that has seen the establishment of an agri-village with a farm school, crop and beef farming. The Department has also built a clinic, a crèche, a school and facilitated the development of sustainable and viable economic projects including a dairy that supplies produce to the market.
These projects have not only developed but also brought dignity to the rural residents, who are beneficiaries of such
projects.
—END—
Issued by the CD: Strategic Communication, Department of Rural Development and Land Reform
Enquiries: Ms Linda Page – Chief Director Communication services
Tel: (012) 312 8502
Cell: 083 460 4482.

Here is more information regarding deployment of the Narysec soldiers:
LANDCLAIMS AND DUTIES OF "NARYSEC SOLDIERS"LOGISTICS FOR RE OPENING
Lodgement will initially take place at 14 Lodgement sites located in Pretoria, Nelspruit, Witbank, Polokwane,
Bloemfontein, Kimberley, East London, Queenstown, Cape Town, George, Pietermaritzburg, Vryheid, Mmabatho, Vryburg
Each site is ready for lodgement (furniture, equipment, network points, security etc. has been made available.)
Where the sites are leased, the Department of Public Works has agreed that sites shall remain unchanged for the
duration of the 5 year lodgement period.
Plans are in place to extend the lodgement sites to 38 additional sites. These sites are not yet included in the
initial phase as they are still to be supplied with furniture and other equipment to host the lodgement system.
LOGISTICS FOR RE OPENING
304 posts have been created to facilitate the lodgement of claims.
116 posts have been advertised for the lodgment process in the 14 offices. This number shall be increased in phase 2
when the lodgement sites are increased by a further 38 offices.
The advertised posts will be filled in March 2014. The posts include supervisors, data capturers, receptionist, staff
for records management.
The existing experienced staff will initially support lodgement and train new staff who will be phased in
NARYSEC youth shall assist in the communication campaign, collection of oral history, and in the management of the claim lodgement process.
MOBILE UNITS
There will be initially be 1 mobile unit per province
The mobile units will be used for first 4 months for information sharing/ capacity building to prepare communities
for lodgement, for NARYSEC "knock and drop"
These units will then be deployed to targeted areas according to provincial schedule (to be advertised prior to
deployment)
Large units to be deployed to rural centres, smaller units (Iveco/ Sprinter type) to be used for less accessible
areas and remote rural areas
Fleet management principles shall be implemented to track use, monitor fuel use, oversee maintenance and supervise deployment
COMMUNICATION
A comprehensive communication campaign has been developed, in consultation with the GCIS
Central to the communication shall be the distribution of a citizens' manual for claims, which informs citizens about their rights to restitution and how to go about lodging a claim, and what happens once a claim is lodged. The manual has been translated in 11 official languages, Braille and main Koi and San languages.
Trained NARYSEC youth, NGOs, PBOs, CDWs and other stakeholders shall assist to distribute the citizens manual
All media releases, draft adverts, posters etc. are ready to launch
A call centre and information centre at national office is being prepared to especially address existing claimants
The distribution of the citizens manual shall be communicated through electronic and print media
NARYSEC DEPLOYMENT
NARYSEC youth has been trained for the knock and drop campaign ID tags, reflective vests, shirts, lodgement bags have been procured.
Management of NARYSEC youth to be done according to provincial plan
Each province have developed a deployment plan
"Hot spots"/ areas of high lodgement potential identified per province
Security will contact police stations in "knock and drop" areas to support youth, provide additional security
NGOs and other stakeholders shall assist in the distribution of the citizens manual.
Other distribution networks shall also be explored as the process gets underway
BACKGROUND NARYSEC AND ZUMA:
PRES ZUMA DELIVERED A SPEECH ON 18 DESEMBER 2011
RURAL DEVELOPMENT AND LAND REFORM
One of the success stories is the piloting of the revitalization of small rural towns Two Pilot Projects are underway at the Prince Albert Hamlet (PAH), Witzenburg Municipality; and, in Dysselsdorp, in the Greater Oudtshoorn Municipality. Both are in the Western Cape Province. These are two examples of what could be achieved in working together as the three spheres of government and the community.We launched the National Rural Youth Service Corp (NARYSEC) in Dysselsdorp.
A total of 7956 young people from rural communities are participating in the programme.Training programmes include disaster management, construction and information management. This will contribute to skills development as well as service delivery improvement in rural areas.
www.thepresidency.gov.za/pebble.asp?relid=5507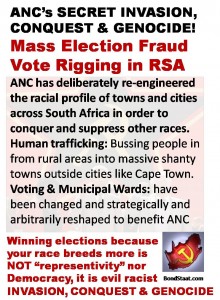 The National Rural Youth Service Corps, Narysec, programme was launched by President Jacob Zuma in September 2010. Speech delivered on 31 May 2013.
President Zuma announced in his 2013 state of the nation address that restitution claims would be reopened; also,
that the government is looking at exceptions to the cut-off date to provide the Khoi and San communities to claim
land, and where it relates to heritage sites and historical landmarks.
We are not going to be apologetic. Really, we are not going to be apologetic. Our focus is not going to be on what
those that are negative say, but we are going to focus on ensuring that our rural people get their land back, they
get the services that they deserve and they are able to have better life like any other person who is alive
presently.
The matter of payment of rates and taxes continues to be a source of conflict between the municipalities and the
Ingonyama Trust Board which could potentially affect the financial position of the Ingonyama Trust Board when going to courts to challenge the position taken by the municipality. The omission of clear objective and verifiable
indicator for the disbursement of funds or 90% of Ingonyama Trust Board income to traditional communities. The
department should build capacity for monitoring and evaluation of land reform projects especially the
recapitalisation and development programmes which seek to fulfil the intention of bringing all land reform under full production.
In conclusion, the essence of rural development is that people are not targets of development but rather the subject
of their own development. It is also imperative that the infrustractural development projects and other development initiatives implemented by this department ensure that communities benefit directly. All the programmes of the department will be guided by the principles of equity, equality and allocation of resources in a gender responsive manner. The Rural Development and Land Reform is ultimately the realisation of vibrant, equitable and sustainable rural community and food security for all. This outcome is conceptualised as the vision of the department whose mandate is to facilitate implementation of the comprehensive and integrated programme of rural development as well as sustainable land reform.
It worries the members of the DA, particularly, this thing about the trust board – Ingonyama Trust. It worries them.
Do you know why? Hon Chair, hon Trollip said that I lied here about the audit. A member of this House can't lie to
this House. I repeat, here we are. The hon member is worried about Ingonyama Trust because if you look at KwaZulu-Natal in terms of land ownership, the balance between private and state is equal and it is because of the Ingonyama Trust. He is worried about that. All of them are worried about that because it is actually beginning to take land away from private hands to government hands and that is worrying the hon members. We have completed the audit. It is true. I knew the hon Trollip will not be quiet about it. Here it is again.
Regarding the issue about Minister Radebe, I can't answer for him. Government has agreed. The policy is coming
through and you will have it. The Land Management Commission, in terms of our proposition to government, will be chaired by a serving judge. That is our proposal. We want it to be an institution of integrity to follow up on these
things that relate to land ownership in South Africa. It is coming. Wait for it. It is coming to this House.
Lastly, regarding farmers who are feeding South Africa, who have now come down to 58 000, hon Madisha and hon Trollip make as if the government of the ANC is responsible. No, it is the workings of capital. That is what is happening.
There is accumulation into fewer and fewer hands. There are policies that we are bringing about, and that is why
there is this fracas in the House. It is because we are dealing with land and we are hitting the nerve.
We are going to change this skewed relations of ownership of land in the country. That is what we are going to do and we are not ashamed about it. The policy conference of the ANC agreed to this, the Mangaung conference has given us a very clear instruction to go and change the skewed land ownership patterns in South Africa, so that we can have black people taking control of the economy of the country. That is why this debate is as hot as it is today. It is dealing with land – the most emotive thing.
President Mugabe is the President of Zimbabwe. Here, we have President Zuma, but he says we are like him. He says we are like Zimbabwe. That is praise and an honour, by the way. What did you expect? Would you have been happier if he had said we were like the British colonialists who killed South Africans to take our land? Would that have been an honour? Mugabe is reversing what the British did to the people of Zimbabwe. It is an honour.
The office of the Valuer-General, hon Sizani, has gone through the Cabinet system and that Bill is now going to come through this House. We will debate the matter here.
This question, which is the last point here, that the ANC government uses land as a motive for election. Of course,
the ANC is elected. No government is elected. The ANC is elected. The ANC will go to the hustings with its policies
and ask South Africans whether they like it. They will say that they like it. We govern.
You keep harping upon the fact that 90% of land has failed. That was 2009. We said 90% has failed and that is why we have a recapitalisation development programme. It was in 2009. I am standing here and I am saying 1 296 farms have now been recapitalised and I said by the end of December 2012 those farms had a net income of R126 million. So, what are you saying? Why do you keep on harping on something that is dead? It is because you think you can make capital on that to win votes. It is not going to work.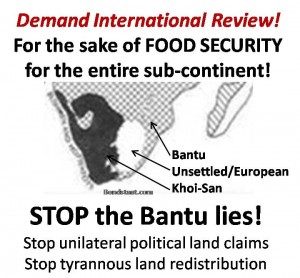 PARLIAMENT 16 MAY 2012 – Minister Of Defence And Military Veterans, Lindiwe Sisulu gave her Budget Vote Speech on the 17 May 2012
National Youth Service: In my 2010 budget statement I reminded Parliament about the long-standing policy directive to develop a National Youth Service which would provide support to our youth whose normal social, skills and competence development as well as the development of national pride, loyalty and patriotism were disrupted by successive apartheid regimes. Without going into the finer detail at this stage, I am pleased to announce my decision to provide leadership for the development of a National Youth Service as a legally constituted and regulated non-militaristic youth development service which will collaborate and cooperate with all public and private institutions committed to youth skills and competences development.
I have also mandated the SANDF, primarily because of its national footprint, logistical and communication capabilities, to develop administrative capability to ensure the effective implementation of the
National Youth Service. The proposed National Youth Service is intended to play a key role in dealing with the
consequences of youth unemployment and to the national goal of poverty eradication. The service will not offer
training for military engagement, but will draw on the potential of military training to promote discipline, self-
esteem, confidence and a sense of belonging to the national community. Much of this concept of the National Youth
Service is borrowed from the Tanzanian model, which has worked for Tanzania for the last 30 years. This is a bold
step we are taking and I would like Honourable Members to consider this invitation. We have currently embarked on the identification, upgrading and refurbishment of some of our training facilities. At the beginning of next year we will have completed our preparations and here comes the part I have been waiting for:
We will take 20 000 unemployed youth and turn them into disciplined, empowered young people.