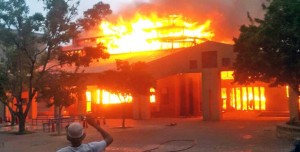 DA calls for more funds to repair varsities
Johannesburg – The Democratic Alliance (DA) on Wednesday said the government should allocate more funds to universities to deal with damage costs caused by student protests.
The DA's said its call for more funds follows Minister of Higher Education and Training (HET) Blade Nzimande's statement regarding the full costs of damage to property at universities in the 2015/2016 financial year.
The HET department's calculation of the cost of damage to property in 13 universities was just more than R300 million.
The DA's Belinda Bozzoli said it was prudent to ensure that further protests were averted by making more funds available to universities.
"To this end Parliament must seriously reconsider its spending priorities while debating the 2016/17 budget and consider assigning additional resources to University subsidies to rebuild and prevent further protests," said Bozzoli.
She said the damages to university buildings and property, if not attended to adequately, could negatively affect students.
"Without additional funding to restore operations, the ability of universities to provide quality education to students will be severely compromised," said Bozzoli.
Nzimande in a statement released on Tuesday indicated that the department would strengthen security at university campuses in order to prevent further damages.
"We have agreed that law enforcement agencies must work with us in protecting the property, students and the staff as a whole," said Nzimande.
"We have been worried about a particular fringe within students who have captured and diverted genuine students' demands for their own ends and using violence and damaging property." – IOL