Die Boere in Nood groep is in November 2015 gestig weens die droogte, deur boere om boere in nood te help en gaan van krag tot krag. Huidiglik help hul boere in droogtegeteisterde dele met voer. Daar is egter nog baie wat nie weet dat daar hulp beskikbaar is nie of dat hul hulp kan verleen nie. Hoe meer blootstelling hoe meer boere kan gehelp word of kan hulp gee.
Hulle het nou 'n webtuiste (nuut) by: www.binsa.co.za
Hul facebook blad, waar alles begin het, se logo met kontakdetail is: https://www.facebook.com/photo.php?fbid=10153286846816630&set=gm.943358902367415&type=3
Hul is geregistreer as NPO en moet dus van alles verslag doen.
Boere wat nood het…
Boere wat hulp nodig net word versoek om 'n vorm in te vul (Boere in Nood Inligting Vorm3.pdf) onder files
Epos dan die vorm na boereinnood@gmail.com
Boere kom dan op 'n databasis
Boere word gegroepeer in areas sodat meer as 1 boer in 'n area met 1 link gehelp kan word
Die dringendheid van die nood word ook in ag geneem
Boere word gehelp op 'n first come first serve basis.
Skenkers…
Alle skenkings gaan na 1 sentrale bankrekening soos genoem
Fondse word uitsluitlik vir voer en vervoerkostes gebruik waar skenkings van voer en vervoer nie moontlik is nie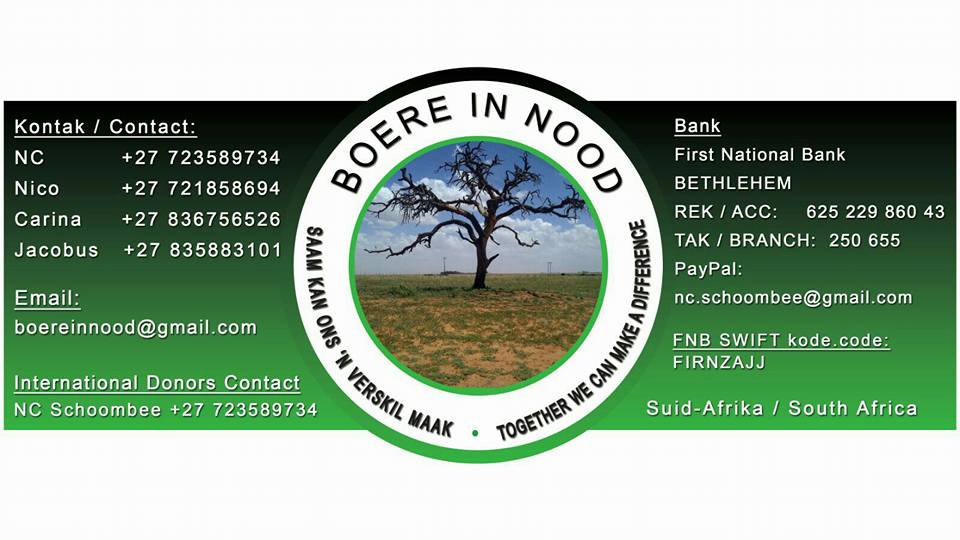 NEEM ASSEBLIEF KENNIS DAT ALLE LEDE ENIGE HULP EN SKENKINGS ONDER DIE AANDAG VAN BIN SE ADMIN MOET BRING.
GEEN PRIVATE SKENKINGS OF FONDSINSAMELINGS MAG ONDER DIE BIN NAAM GEDOEN WORD SONDER DIE GOEDKEURING VAN DIE BESTUUR NIE.
BIN ONDERSTEUN MEESTAL BEES EN SKAAP BOERE Die rede is dat ander diere hoogs gespesiaaliseerde vermengings nodig het vir voer en die logistiek daar agter is 'n groot probleem.
Vir Perde: https://www.facebook.com/groups/226686770999273/
---