Shanduka groep het as'n swart bemagtigingsmaatskappy in 2001 begin en het sedertdien verskeie beleggingsgroepe, nie net in Suid-Afrika nie, maar ook in meeste Afrika lande of aangrensend aan die kontinent. Swart bemagtiging bemagtig elites.
Bloomberg berig dat die Shanduka Group Pty Ltd 'n hoofbeleggings maatskappy is wat op alle vlakke spesialiseer en fokus in beleggings in hulpbronne, soos mynbou- en eksplorasie sektore, bos- en papierprodukbedryf, verpakkingsektor, chemiese industrieë, staal en yster-sektore; energie, insluitende elektrisiteit, olie en gas en verwante nywerhede; eienskappe; finansiële dienste; telekommunikasie, voedsel en drank, industriële en algemene, en strategiese beleggings.
Die firma belê in Nigerië, Kenia, Uganda, die Demokratiese Republiek van die Kongo, Mosambiek, Namibië, Botswana, Zimbabwe en Soedan.
---
Is u opsoek na goedkoop vliegtuig kaartjies of wil u graag 'n motor huur?
Besoek
SKY.co.za
nou!
---
Bloomberg – Bloomberg: Sanduka Groep
The Shanduka Group Pty Ltd. is a principal investment firm specialising to invest in resources, such as mining and exploration sectors, forest and paper products industry, packaging sector, chemical industry, steel and ferrous sectors; energy, including electricity, oil and gas, and related industries; properties; financial services; telecommunications, food and beverages, industrial and general, and strategic investments.
The firm is investing in Nigeria, Kenya, Uganda, the Democratic Republic of Congo, Mozambique, Namibia, Botswana, Zimbabwe, and Sudan. It participates in the management of investee companies by providing alternative views at board level and board sub-committees. The Shanduka Group Pty Ltd. was founded in 2001 and is based in Sandton, South Africa.
PHEMBANI
Gedurende Mei 2015 het Ramaphosa 30% van Shanduka se sake belange aan Phembani groep verkoop. Die Phembani groep wat ook swart bemagtiging is, het 'n verskeidenheid van aandeelhouers en strukture. Phembani groep aandeelhouerstrukture. Jy mag dalk twee van die groepe erken!!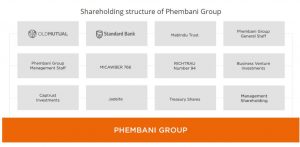 During May 2015 a 30% stake in Shanduka was sold to Phembani. The Shanduka Group has a diverse portfolio of businesses that it has invested in –29 in total –ranging from Standard Bank, MTN, Glencore, Seacom and Alexander Forbes. Ramaphosa's remaining shares in the business will be held in blind trusts, his office said last year. The merger, which is currently being reviewed by the Competition Commission, will create a billion-dollar black-owned company with a collective net asset value of R11 billion.
---
Gratis inskrywing by ons Dating Service … kliek net Dating Service nou !!
---
The former business tycoon is said to be holding onto his property investments as well as investments in the McDonald's franchise. Ramaphosa is the second-richest black person in South Africa with his fortunes estimated to be around $550 million (R6 billion). He is trumped only by African Rainbow Minerals founder and chairman Patrice Motsepe whose fortune, according to the 2015 Forbes Rich List, is worth $2,2 billion (R26,7 billion).
Reported on Fin24 in September 2016 : "The potential purchaser, MSA Holdings, is a company based in the United Arab Emirates," the group said in a statement. Ramaphosa's sale of McDonald's South Africa is in line with a previous statement he had made, saying he would undertake a review of his business interests. "The proposed transaction," McDonald's said, "has recently been approved by the Competition Commission and we can confirm that MSA Holdings is not currently involved in the restaurant business".
The group didn't want to comment any further, as all parties to the transaction signed confidentiality agreements.In March 2011, Ramaphosa, who is the founder of the Shanduka Group, received a 20-year agreement to run 145 McDonald's restaurants in South Africa. Under the agreement Ramaphosa owned all McDonald's assets in South Africa, including property.
Shortly after the national government elections in May 2014, Ramaphosa announced that he was divesting from Shanduka to free him up to fulfil his responsibilities as deputy president without the possibility of conflict of interest. His family's interests were to be held in blind trusts.
Ramaphosa subsequently entered into an agreement whereby the Pembani Group, led by entrepreneur Phuthuma Nhleko, as well as Ramaphosa's family trust, Jadeite Limited and Standard Bank, amongs others, combined their interests and created a new black-controlled natural resources and industrial holding group. Ramphosa's spokesperson Ronnnie Mamoepa told Fin24 by phone that since Ramaphosa announced his intention to dispose the bulk of his interests he was no longer in a position to comment on these transactions.
---
Is u opsoek na goedkoop vliegtuig kaartjies of wil u graag 'n motor huur?Besoek SKY.co.za nou!
---
HISTORY
Shanduka's broad-based ownership demonstrates its commitment to empowerment and transformation. Part of its shareholding was held by trusts that invest in education and small business development. Total black ownership was 51%, of which an 18% shareholding was held by broad-based trusts.
In 2004, Shanduka Group launched the Shanduka Foundation and made a commitment to spend R100 million on corporate social investments over ten years. The Shanduka Foundation had a number of entities through which it carries out its social investments, including the Adopt-a-School Foundation, Shanduka Black Umbrellas, Cyril Ramaphosa Education Trust and Shanduka Internships.
The Phembani Group maintains a focus on the Sub-Saharan African mineral resources,
energy and infrastructure industries.
---
Wil jy graag adverteer op hierdie baie gewilde webwerf? Stuur my 'n e-pos by tersia@v.co.za, en ek sal jou vertel hoe !!
---