Andries Breytenbach, leier van die HNP, het op 11 Oktober verlede jaar in 'n SABC onderhoud en 'n mediaverklaring gesê dat "wanneer 'n staat of volk 'n ander volk se grondgebied vir homself toe-eien, dit noodwendig tot oorlog lei".
Die Boere-Afrikanervolk het die grondgebied wat hy besit, regmatig verkry. Leiers en woordvoerders van die ANC beweer herhaaldelik dat die grond wat Witmense besit, van die Swartmense gesteel is.
In die Freedom Charter, wat 'n bloudruk vir blanke volksmoord is, staan die kommunistiese beginsel dat:
"all land shall be re-divided amongst those who work it…"
Cyril Ramaphosa, president van die ANC, verklaar onomwonde dat grond (ook landbougrond) sonder vergoeding onteien sal word.
Die HNP het 'n veldtog teen hierdie gronddiefstal begin, hieronder is die eerste twee "plakkate" van 'n reeks wat volg vir die veldtog.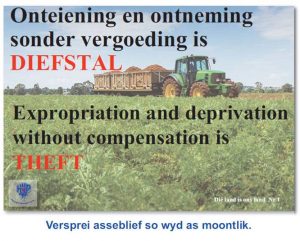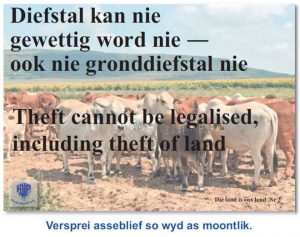 Don V