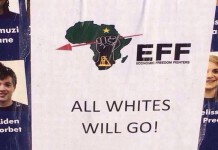 Posters proclaiming "Vote EFF All whites will go!" that appeared on the University of Johannesburg's campuses this week were illegal and have been removed' the university said on Friday.
The posters' which carried the symbol of the Economic Freedom Fighters (EFF) but did not resemble an official party poster' appeared as the University of Johannesburg (UJ) held Student Representative Council (SRC) elections from Wednesday to Friday.
Blacklist racists, says ANC MP
"We are not a racist organisation and will be looking into those posters"' EFF Student Command President Mpho Morolane said.
UJ Deputy Vice-Chancellor for Strategic Services Mpho Letlape said the university was against the message on the poster and it fell foul of the university's rules.
"All posters to be put up on our campuses must be stamped and approved. As you can see with that one' there is no official stamp. We have removed all the [illegal] posters'" Letlape said.
The elections have been plagued by malice' with the university reporting three incidents of people trying to disrupt the polling.
Three political organisations – the EFF' Democratic Alliance Student Organisation and the South African Students Congress – and 14 independent candidates contested the elections' which was held under the control and management of a company subcontracted by the Independent Electoral Commission.
Voting was temporarily suspended on Thursday afternoon after a student tried to run away with a ballot box' which was secured by Independent Electoral Commission officials. Another individual tried unsuccessfully to cause damage at the Student Centre on the Auckland Park Kingsway Campus.
On Thursday' the SRC said on Twitter that there had been "an attempt to petrol-bomb the voting station by a student wearing a red top'" implying that it had been an EFF supporter in the party's colours.
Aluwani Chokoe of Sasco at UJ shared a video on Twitter showing people wearing EFF T-shirts carrying a ballot box.
"We condemn the hooliganism displayed by EFF. This is not how a democracy is run'" she tweeted – Daily news