Potluck Pumpkin Torte Recipe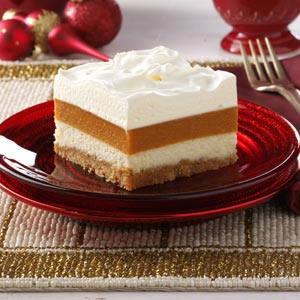 TOTAL TIME: Prep: 30 min. Bake: 25 min. + chilling
MAKES: 15 servings
Ingredients
• 1-2/3 cups graham cracker crumbs
• 1/3 cup sugar
• 1/2 cup butter, melted
• CREAM CHEESE FILLING:
• 2 packages (8 ounces each) cream cheese, softened
• 3/4 cup sugar
• 2 eggs, lightly beaten
• PUMPKIN FILLING:
• 2 envelopes unflavored gelatin
• 1/2 cup cold water
• 1 can (30 ounces) pumpkin pie filling
• 1 can (5-1/2 ounces) evaporated milk
• 2 eggs, lightly beaten
• TOPPING:
• 1 carton (12 ounces) frozen whipped topping, thawed
Nutritional Facts
1 piece equals 413 calories, 24 g fat (15 g saturated fat), 109 mg cholesterol, 296 mg sodium, 42 g carbohydrate, 2 g fiber, 7 g protein.
Directions
1. In a small bowl, combine the crumbs, sugar and butter. Press onto the bottom of an ungreased 13-in. x 9-in. baking dish; set aside. In a large bowl, beat cream cheese and sugar until smooth. Add eggs; beat on low speed just until combined. Pour over crust. Bake at 350° for 25-30 minutes or until center is almost set.
2. Meanwhile, in a small bowl, sprinkle gelatin over cold water; let stand for 1 minute. In a large saucepan, combine pie filling and evaporated milk. Bring to a boil. Add gelatin; stir until dissolved. Whisk a small amount of hot mixture into the eggs. Return all to the pan, whisking constantly.
3. Cook and stir over low heat until mixture is thickened and coats the back of a spoon. Cool for 10 minutes. Spread over cream cheese layer. Spread whipped topping over top. Cover and refrigerate overnight. Yield: 15 servings.