Stalin se Sowjetunie, aangehits en gefinansier deur die Geallieerdes, verkrag Duitsland en Stalin straf meer as 2 miljoen van sy eie mense na hul vanuit die Duitse kampe bevry was, vir die misdaad om gevange geneem te word.
Duitse rassisme is doelbewus verwring. Waffen SS het 60,000 Islamitiese SS gehad wat hul godsdiens gerespekteer het.
Hierdie episode bevat woorde van genl. Leon DeGrelle, die beroemdste van die Waffen SS, wat die strewe na uitnemendheid en onderskeid van die Waffen SS en inderdaad die Duitse Nasie, destyds aangedryf het, voordat dit verloor het aan die kragte van materialisme bekend as kommunisme.
"My eer is my lojaliteit"
Born in Belgium, genl. Leon DeGrelle joined the Waffen SS as a Private and earned all Stripes up to General for exceptional bravery in combat. He earned all stripes from Corporal to General, and died at 87 years of age.
He was awarded the Ritterkreutz, the Oak-Leaves, the Golden German Cross and numerous other decorations for outstanding valour under enemy fire.
The Waffen SS was the most advanced Army the World had seen, with Soldiers immaculately well trained and equipped with the latest in wartime technology.
The Waffen SS was the most multi-cultural army in the World with recruits from all over Europe, including a Free British Corps and Volunteers across the British Empire. Africans, Muslims.
The Waffen SS held their oath of honour as sacred.
"I swear to thee Adolf Hitler as Fuhrer and Chancellor of the German Reich loyalty and bravery. I vow to thee and to the superiors whom thou shall appoint obedience until death so help me God."
Leon DeGrelle was one of the last to fight on the Eastern Front, and was engaged in seventy-five hand-to-hand combat actions and was wounded numerous occasions.
He escaped unconditional surrender by flying some 1500 miles across Europe, managing to survive constant fire along the way and crash landed in San Sebastian in Spain, critically wounded again.
Against all odds, he survived and lived out the rest of his life in Spain where he eventually died at the age of 87.
Stalin admitted that the Red Army succeeded in defeating Germany only because they received $11 billion from FDR and Jews in America through Lend Lease Act to defeat Germany.
We know that Red Army also received military assistance from United States Air forces during Battle of Stalingrad to defeat Germany.
General Patton could have reached German regions by November 1944. But Jewish Eisenhower deliberately caused several delays on Patton and his third army so that Red Army can take over Germany and rape and kill Germans and Eisenhower, FDR, Churchill, and Jews also wanted Great Britain and America to destroy German cities through bombing.
It must be noted that the bombing of Dresden happened only in February 1945. Many of the regions of Berlin were also bombed in 1945.
Komm Frau (come here woman) from:
http://www.dailymail.co.uk/news/article-2458778/Komm-Frau-Gdansk-tears-statue-marking-rape-millions-German-women-Russian-soldiers.html
"Between 20 and 25 million Germans and collaborators perished in the years after the war had officially ended. It is a crime that will never be forgotten, and it is a crime that will forever stain the hands and national consciences of the former USSR, the United States of America, Great Britain and her Commonwealth nations, and perhaps more pointedly the Anglo and Slavic races.
A little German boy holds a lantern as he sits in a wagon en route to the Allied lines in the bitter winter snow. He's with his mother. She's bleeding profusely; she's dying. The German doctor who the little boy was lucky enough to hunt down is doing his best to perform a tamponade (a blockage) of her uterus. She was brutally, viciously raped. Did she survive? Goodrich doesn't say, but the prognosis and tone suggests she didn't make it.

She was a German. She supported Hitler. She was a Nazi. She deserved it.

She deserved it…?
So said the Allies in the years following the war: "Germany merely got what she deserved. The "morally superior" White nations of the globe had smashed ultimate evil: the Nazis; the German race."
Never has a greater lie been told. Never has so much hatred and vengeance been poured forth onto one people and one nation that had chosen not to abide by the laws of international bankers and financiers who wish only to enslave, plunder, steal and when necessary, kill. And most of the White races of the world were more than willing and eager to take up the flag of international Jewish money power and to smash the one White race that opposed it with such honor, valor and sheer might—so much so that it took all the best brain- and material-power of the entire White race and all the monetary power of its Jewish financiers and overlords to break its back. And yet… and yet… it still was not broken.
Goodrich ends his book with a tone of hope.
When all had been destroyed, when all seemed to have been lost forever in Year Zero, the Germans proved once again that such was just not the case. Brick by brick and hour by hour they rebuilt upon the ruins of God's Empire a new Germany. No Holocaust by fire, no genocide, no viricide, no famine, and no other inhuman atrocities could obliterate or subdue the Germanic element of the White race of humankind.
Even though Germany today is still an occupied nation with a hurting people, she still possesses that flicker of life and spirituality that the other White races and nations lost long ago when they sold their souls to Judaism and the Jewish "god" of hatred and revenge, Jahve. "Unbowed, unbent, unbroken." Such are the words of an album released by a European band named Hammerfall. And such are the words that describe the German people, the German folk, and the German race. The only ones who bear the burden of bloodstain and guilt are the Allies. No crimes in recorded human history surpass those inflicted against Germany and Europe by the United States, Great Britain and the former United Soviet Socialist Republics—all with Jewish spiritual, media and financial backing and support.
The death of National Socialist Germany was the death of Western man and everything he once stood for.
I must thank Thomas Goodrich. Hellstorm has changed my life."
It is noteworthy that both Patton and McArthur after the war realized they had been used and betrayed – even Churchill said "we slaughtered the wrong pig" – and not surprising, that both Patton and McArthur were assassinated by the Jews
Here is a Letter from Haj Amin Husseini to Adolf Hitler:
Der Grossmufti von Palästina Haj Amin Husseini an Adolf Hitler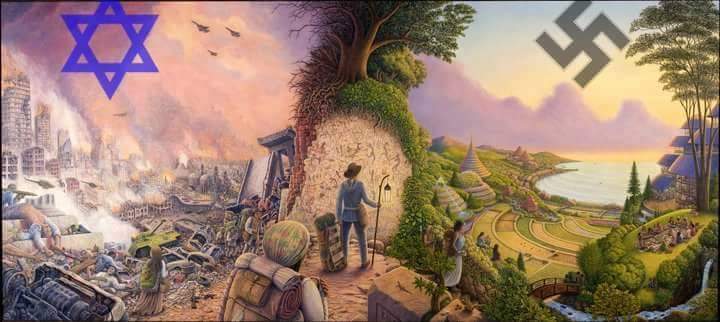 Patton wrote:
"There is a very apparent Semitic influence in the press. They are trying to do two things: first, implement communism, and second, see that all businessmen of German ancestry and non-Jewish antecedents are thrown out of their jobs.

"They have utterly lost the Anglo-Saxon conception of justice and feel that a man can be kicked out because somebody else says he is a Nazi. They were evidently quite shocked when I told them I would kick nobody out without the successful proof of guilt before a court of law. ."
Dié baanbreker dokumentêr kroniek die opkoms van Duitsland van nederlaag in die Eerste Wêreldoorlog, deur kommunistiese pogings om Duitsland oor te neem; hiperinflasie tydens die Weimar Republiek, wydverspreide werkloosheid en ellende, en Adolf Hitler se aanleiding tot krag.
Dit wys ook 'n persoonlike kant van Adolf Hitler: wie hy was, sy familie agtergrond, sy kunswerk en stryd in Wene en wat hom gemotiveer het hom aan bewind te kom.
Daar is so baie goed weggesteekte geskiedenis te vertel; FDR Pearl Harbor sameswering, Sowjet-brutaliteit en verraad aan alle kante. Weet ons werklik wat die ware koste van oorlog is? Het ons regtig al die feite tot ons beskik?
Kyk na hierdie reeks en ontbloot die ware oorsake van die Tweede Wêreldoorlog. Doen jou eie navorsing en besluit wat jy kies om te glo. Dink Anders…
Vir die volgende 26 weke gaan SAUK Nuus elke Sondag terug kyk na geskiedenis wat ons nie mag sien nie. Ons volk het almal duisende ure se programmering bekyk op TV en massa media, wat deur die oorwinnaar geskryf is. Dit is dus net regverdig dat die anderkant van waarheid ook beskikbaar moet wees, die storie van die verloorder…
Sedert die middel van die 20ste eeu, het die wêreld nog altyd net een kant van die ongelooflike storie gehoor. Die verhaal van 'n seun van 'n gewone gesin wie se ambisie dit was om 'n kunstenaar te word, maar wat in plaas daarvan 'n swerwer geword het.
Sy lot was egter nie om weg te dryf in die vergetelheid nie, maar om te styg tot die grootste hoogtes van krag, uiteindelik om een van die mees invloedrykste mense wat ooit geleef het te word.
Nou vir die eerste keer, hier is 'n gedokumenteerde verslag van 'n storie wat baie glo, die grootste storie wat nooit vertel was nie!
Don V
Kyk die reeks so ver hier: Verbode Waarheid – Die grootste storie wat nooit vertel was.
---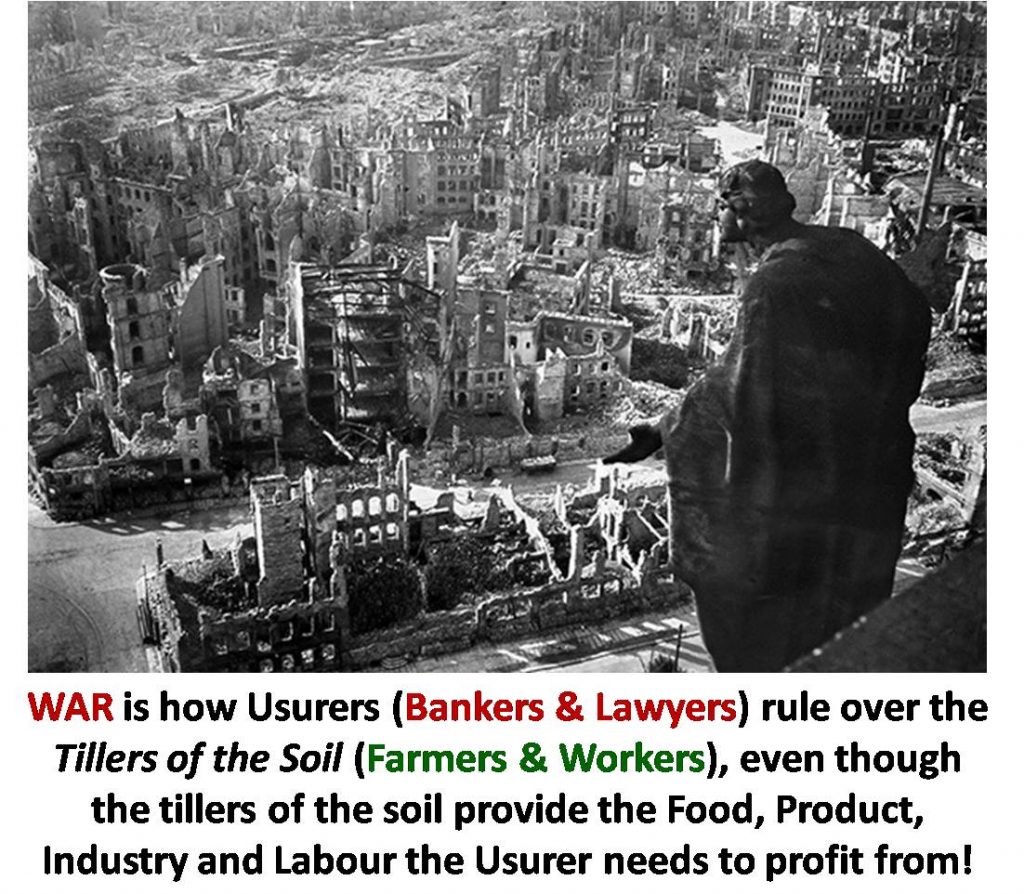 ---