Het Hitler se ekonomiese wonderwerk bankiers en massamedia genoodsaak om dit te probeer stopsit en die oorlog te begin? Wat as Duitsland gewen het?
As Duitsland gewen het, sou daar hierdie verval en puitrifikasie so duidelik in Westerse samelewings van vandag wees?
Sou ons in 'n ordelike en gedissiplineerde wêreld leef, waar almal hul plek ken en presies weet wat van hulle verwag word?
In plaas daarvan het ons valse demokrasie en chaos; En in hierdie chaos is slegs die rykes, elites en leuenaars voorspoedig, terwyl al die res sukkel.
"'n Leuen kan net oorleef, as niemand daarteen durf praat nie"
Hitler was nie 'n rassis nie nog 'n "supremacist" en het selfs die kulture van Sjinese en Japannese beter as die Duitse kultuur beskou:
"In saying this, I promise you I am quite free of all racial hatred. It is, in any case, undesirable that one race should mix with other races. Except for a few gratuitous successes, which I am prepared to admit, systematic cross-breeding has never produced good results. It's desire to remain racially pure is a proof of the vitality and good health of a race. Pride in one's own race—and that does not imply contempt for other races—is also a normal and healthy sentiment. I have never regarded the Chinese or the Japanese as being inferior to ourselves. They belong to ancient civilisations, and I admit freely that their past history is superior to our own. They have the right to be proud of their past, just as we have the right to be proud of the civilisation to which we belong. Indeed, I believe the more steadfast the Chinese and the Japanese remain in their pride of race, the easier I shall find it to get on with them." Adolf Hitler (13th February 1945).
Thousands of soldiers from countries in Asia and in Africa fought for Hitler and Germany. Africans were treated equally in Germany and although people from all over were given residence in Germany, citizenship was far harder.
Hitler was loved by Americans until 1941 when FDR and the Zionist Jews started brainwashing Americans into believing the lie that Hitler was a monster.
In 1939, Princeton University asked its incoming students to list the world's greatest living people. Einstein came in second. Adolf Hitler came in first.
Check this link – http://www.businessweek.com/news/2013-10-18/princeton-poll-ranked-hitler-no-dot-1-over-einstein-lewis-lapham
"Some call it Marxism — I call it Judaism." The American Bulletin, Rabbi S. Wise, May 5, 1935.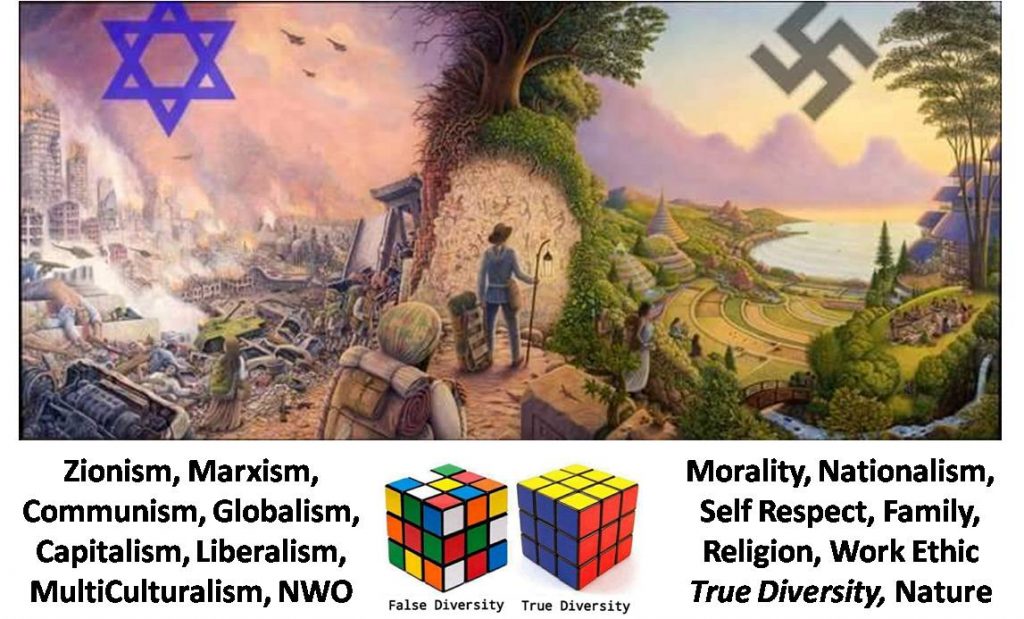 "Marxism is the modern form of Jewish prophecy." Reinhold Niebur, speech before the Jewish Institute of Religion, New York, October 3, 1934
"The Bolshevist officials of Russia are Jews. The Russian Revolution with all its ghastly horrors was a Jewish movement." The Jewish Chronicle, Sept. 22, 1922.
"There is much in the fact of Bolshevism itself, in the fact that so many Jews are Bolshevists. The ideals of Bolshevism are consonant with many of the highest ideals of Judaism." Jewish Chronicle London, April 4, 1919.
"The Communist soul is the soul of Judaism. Hence it follows that, just as in the Russian revolution the triumph of Communism was the triumph of Judaism, so also in the triumph of fascism will triumph Judaism." (A Program for the Jews and Humanity, Rabbi Harry Waton, p. 143-144).
"Zionism is Judaism, and Judaism is unthinkable without Zionism." (Harper's Encyclopedia of United States History, Vol. X, "Zionists").
The Jewish periodical, THE JEWISH WORLD, London, January 16, 1919 carried an article which said: "International Judaism forced Europe into the war (WWI), not only to seize a large part of the gold but to start a new Jewish World War (W.W.II) by the help of this gold."
"If anything, the law should encourage, not forbid, the intermingling of bloods…But legislation cannot change the human heart. The only way we can accomplish that, the only we can achieve a Final Solution to racial prejudice, is to create a mÇlange of races so universal that no one can preen himself on his racial 'purity' or practice the barbarism to safeguard it. The deliberate encouragement of interracial marriages is the only way to hasten this process. And it may be that time is growing short. The dominance of our world has begun to shift, like cargo in a listing vessel, from the White races to the colored. The sooner we adjust to this fact, the better it will be for our children. For we might well acknowledge, even the most enlightened of us, that we will never completely eliminate racial prejudice until we eliminate separate races." (Rabbi Abraham L. Feinberg, Maclean's Magazine, September 5, 1967).
"We must realize that our party's most powerful weapon is racial tension. By pounding into the consciousness of the dark races, that for centuries they have been oppressed by whites, we can mold them into the program of the Communist Party. In America, we aim for several victories. While inflaming the Negro minorities against the whites, we will instill in the whites a guilt complex for their supposed exploitation of the Negroes. We will aid the Blacks to rise to prominence in every walk of life and in the world of sports and entertainment. With this prestige,, the Negro will be able to intermarry with the whites and will begin the process which will deliver America to our cause." (Jewish Playwright Israel Cohen, A Radical Program For The Twentieth Century. Also entered into the Congressional Record on June 7, 1957, by Rep. Thomas Abernathy).
"We Jews regard our race as superior to all humanity, and look forward, not to its ultimate union with other races, but to its triumph over them." (Goldwin Smith, Jewish Professor of Modern History at Oxford University, October, 1981)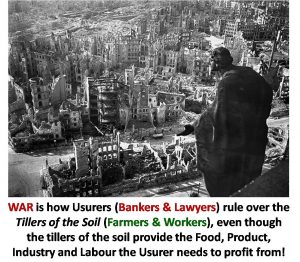 The Marxist Politicization of Homosexuality:
Until 1973 the American Psychiatric Association listed Homosexuality for what it is : A medical disorder. Then, Jews funded Gay activists to protest and make the APA remove homosexuality from the list of disorders.
This was done by lies, tricks and manipulations. For example in order to excuse and justify the removal of homosexuality as a disorder the APA had to redefine the entire conceptual basis for defining a medical disorder. For example only those conditions that caused the individual to suffer or that didn't enable the individual to function in society, where considered appropriate for the inclusion in the DSM list of disorders.
Since Homosexuality (or for that matter Zoophilia/Bestiality and Necrophilia) aren't necessarily associated with Distress and Social Disability, therefore it should not be listed as an official disorder and thus in effect "Normalized".
This politically correct lie by the APA was possible only when the APA ignored the physiological and anatomical criteria in regards to homosexuality. The physiological criteria is the ONLY objective criteria by which homosexuality is indeed a medical disorder. Since Homosexuals are sexually attracted to objects with whom their body was not designed for (Whether it be animals, same-sex, cars, plants etc.) They are biologically and anatomically incompatible and yet they want to "marry" and make us agree with this.
Dié baanbreker dokumentêr kroniek die opkoms van Duitsland van nederlaag in die Eerste Wêreldoorlog, deur kommunistiese pogings om Duitsland oor te neem; hiperinflasie tydens die Weimar Republiek, wydverspreide werkloosheid en ellende, en Adolf Hitler se aanleiding tot krag.
Dit wys ook 'n persoonlike kant van Adolf Hitler: wie hy was, sy familie agtergrond, sy kunswerk en stryd in Wene en wat hom gemotiveer het hom aan bewind te kom.
Daar is so baie goed weggesteekte geskiedenis te vertel; FDR Pearl Harbor sameswering, Sowjet-brutaliteit en verraad aan alle kante. Weet ons werklik wat die ware koste van oorlog is? Het ons regtig al die feite tot ons beskik?
Kyk na hierdie reeks en ontbloot die ware oorsake van die Tweede Wêreldoorlog. Doen jou eie navorsing en besluit wat jy kies om te glo. Dink Anders…
Vir die volgende 26 weke gaan SAUK Nuus elke Sondag terug kyk na geskiedenis wat ons nie mag sien nie. Ons volk het almal duisende ure se programmering bekyk op TV en massa media, wat deur die oorwinnaar geskryf is. Dit is dus net regverdig dat die anderkant van waarheid ook beskikbaar moet wees, die storie van die verloorder…
Sedert die middel van die 20ste eeu, het die wêreld nog altyd net een kant van die ongelooflike storie gehoor. Die verhaal van 'n seun van 'n gewone gesin wie se ambisie dit was om 'n kunstenaar te word, maar wat in plaas daarvan 'n swerwer geword het.
Sy lot was egter nie om weg te dryf in die vergetelheid nie, maar om te styg tot die grootste hoogtes van krag, uiteindelik om een van die mees invloedrykste mense wat ooit geleef het te word.
Nou vir die eerste keer, hier is 'n gedokumenteerde verslag van 'n storie wat baie glo, die grootste storie wat nooit vertel was nie!
Don V
Kyk die reeks so ver hier: Verbode Waarheid – Die grootste storie wat nooit vertel was.
---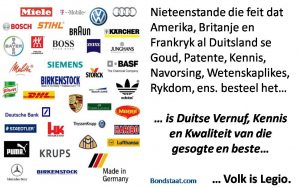 ---